CUSTOM & LIFTED TRUCKS FOR SALE IN HOUMA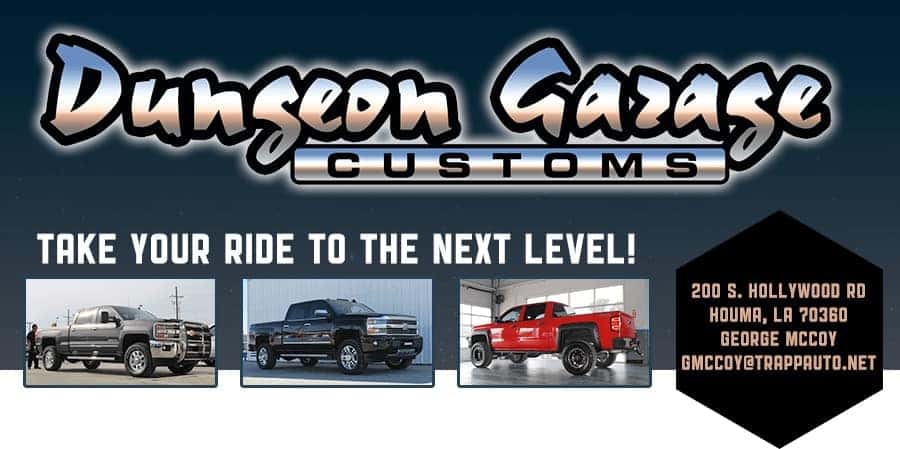 Your ride is important, and Dungeon Garage Customs offers the excellent craftsmanship and brilliant design to take your ride to the next level. To enhance your vehicle's appearance or protect against the elements, give us a call or complete the form on this page.
CALL (985)876-6570 NOW!
DUNGEON GARAGE CUSTOMS
LIFT KITS & INSTALLATION
There is no better way to make your truck stand out from the crowd than adding a leveling kit or a lift kit to provide that aggressive stance, more ground clearance, and more room for larger wheels and tires. At Dungeon Garage Customs we can lift all makes and models of pickup trucks from 3.5 inches all the way up to 7 inches of lift. The most popular brands of lift kits and/or suspension components that we install are BDS Suspension, SkyJacker® Suspensions, Zone Offroad Products, Rough Country Suspension Systems®, Fabtech, RCD Suspension, PRO COMP USA, Cognito Motorsports®, REVTEK® Suspension, and more! For custom lifted trucks in Houma, LA or the Terrebonne Parish area, trust the experts of Dungeon Garage!

OFF ROAD WHEELS & TIRES
Now that you have lifted your truck, you are going to need bigger wheels and tires; don't worry, we have that covered as well. At Dungeon Garage we can order you any combination of wheel and tire that you desire from a diameter of 17 inches all the way up to 22 inches. For ordering and pricing information give us a call or fill out the contact form on this page.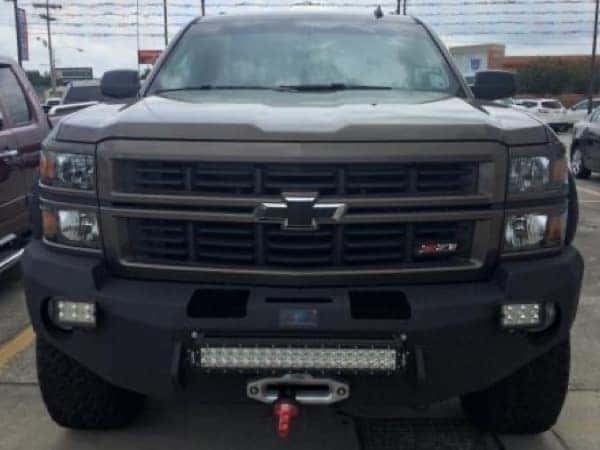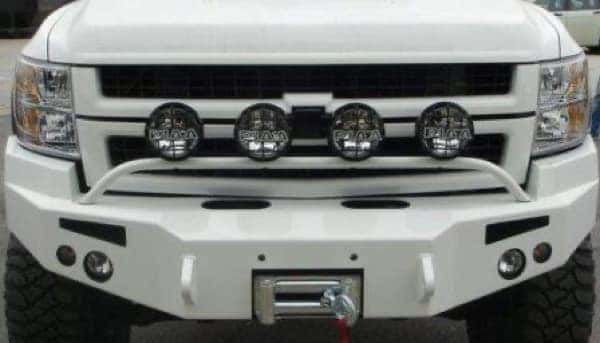 TRUCK BUMPERS, LIGHT BARS, & ACCESSORIES
Truck Bumper with LED Lighting at Dungeon Garage Customs in Houma, LADungeon Garage is an approved vendor for HammerHead™ Armor and Fab Fours premium truck bumpers to provide an aggressive look while providing added protection and peace of mind. These bumpers are constructed completely from steel that can withstand whatever you can throw at them. To go with your new bumper we can install LED Light Bars for increased visibility while hitting the trails or just cruising the back roads at night. In the event that you do get stuck, we can install winches into those beefy steel bumpers and you can simply pull yourself out. Other accessories include hard and soft truck bed covers from BAKFlip®, Roll-N-Lock®, and UnderCover. For more information you can give us a call or use the contact form on this page and we will get back to you ASAP!
Since we are located at Trapp Chevrolet, we also have a wide variety of OEM Chevrolet and GM Accessories that we can order and install on your truck. The advantage of using OEM accessories is the 3-Year/36,000 Mile Limited Warranty* that comes with them.
CUSTOM PAINTING
One of our most popular services is our custom painting services that allows us to truly transform the look of your truck, whether you drive a stock pickup or a Chevy Silverado Special Edition truck. The most popular custom painting we do is color matching your trucks grille to the body color or completely blacking out the grille. We can even paint your trucks badges and emblems if you'd like. For more information about our custom painting services, give us a call at (985) 275-2437 or use the contact form on this page. Painted Grille by Dungeon Garage Customs in Houma, LA
For general questions please feel free to stop by, call us or use the contact form above. If you are already confident in what you want, give us a call or use the contact form to request an appointment so we can discuss it and bring your vision to life!
Take a peak at some of our customer's trucks below, or for even more photos make sure to visit our Facebook Page!